Slate Magazine's Meghan O'Rourke offers up an excellent slideshow with commentary on the work of Henri Cartier-Bresson. Before
Robert Frank
,
Alfred Eisenstaedt
and
Garry Winogrand
, he was the original street photographer. I was interested to read about his background as a game hunter, which probably instilled in him the patience to wait for what was termed "the decisive moment".

I wish I could have witnessed this scene that O'Rourke describes.

Truman Capote, who traveled with him to New Orleans in the 1940s, said that while photographing he resembled an "agitated dragonfly," ducking and bobbing, and Lincoln Kirstein described him, in 1947, "dancing about his subject on tip-toe, like a boxer or a fencer."

Click
here to view the slideshow
.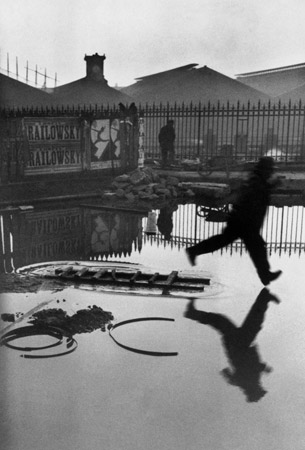 Henri Cartier-Bresson,
Gare Saint-Lazare, Paris
, 1932
"The simultaneous recognition, in a fraction of a second, of the significance of an event as well as the precise organization of forms which gives that event its proper expression... . In photography, the smallest thing can be a great subject. The little human detail can become a leitmotif." — Henri Cartier-Bresson